Posted on 03. Apr, 2012 by Stephen Lorenzo / NEW YORK DAILY NEWS in News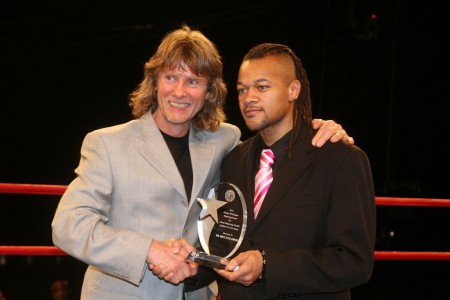 When Jill Emery needed training, he gave it to her. When Yuri Foreman needed toughness, he supplied some. When Yegor Plevako needed a place to stay, he obliged.
Michael Kozlowski was born in Kazakhstan and raised during the reign of the former Soviet Union. He began boxing in his teens and in 1983, advanced to the quarter finals of the Kazakhstan National Championships. The bout was halted when the referee determined Kozlowski was unable to continue due to significant cut over his eye. The youngster was stung by the loss, but knew his talents as a boxer were limited. Still, he felt a deep connection to the sport.
"Some kids were born to be champions," he said. "I was number three or four, (but) never number one or two. (But) the coaches that trained those champions trained me too."
Kozlowski soon found that his success in the sport would not come between the ropes, but from behind them. In Moscow, he diligently studied for a master's degree in coaching, a requirement at the time in Soviet Russia. By 1991, the coach produced his first national champion, Sergey Grigoriev, at the age of 29. The feat remains one of his proudest career moments.
Soon after, the young coach's career began to blossom. In 1995, he left the Soviet Union for Israel and was later selected to coach the Israeli national team. After developing several Israeli national champions, he decided to challenge himself with a move to America. Early in his U.S. experience, Kozlowski shared a one-bedroom apartment, with his wife, two daughters and aspiring boxer, Yuri Foreman.
The trainer's first experience with the Daily News Golden Gloves came in 2000, when the fiery corner man helped drive 156-pound Jill Emery to a women's gold and Foreman to a pair of silver Gloves in the 147-pound open final. Kozlowski's early tutelage would be highly instrumental in Emery's IFBA World Welterweight Title win in 2008 and Foreman's WBA World light middleweight championship in 2009.
Though he's tasted success as a professional, Kozlowski, like his idol Cus D'Amato, maintains an undying respect for the amateur level, where he has continued to produce champions.
"Real boxing is the amateurs in the Golden Gloves", Kozlowski said. "This is the future."
His latest prospect is Iegor Plevako, who in 2011 captured the super heavyweight open division at the Golden Gloves as well as the tournament's best open fighter. Like Kozlowski, Plevako yearned for American success from native Ukraine. After journeying to the state in 2010, the super heavyweight met and decided on Kozlowski as his coach.
"I've been boxing since I was a kid," Plevako said. "I see when trainers are good and when they're bad (and) I really see it in Mike. He's a real coach."
In addition to their ring relationship, Plevako, like Yuri Foreman years ago, calls Kozlowski's apartment home.
"A lot of coaches train you just to train," Jeremy Fiorentino, another Kozlowski product said. "But, he loves me. When I lost in the 2010 Golden Gloves, he was the one who called me to go to Kazakhstan to fight. Not everyone would just take me like that. There's love in the relationship."
Throughout his boxing career, Michael Kozlowski has orchestrated the building of champions inside and out of the ring. His success has been measured, not by the hardware of his students, but by the men and women they've become.
Kozlowski's life and boxing philosophy is embodied by the name of his gym: Win or Die. As the trainer sees it, if you can't strive to win at life, why bother living?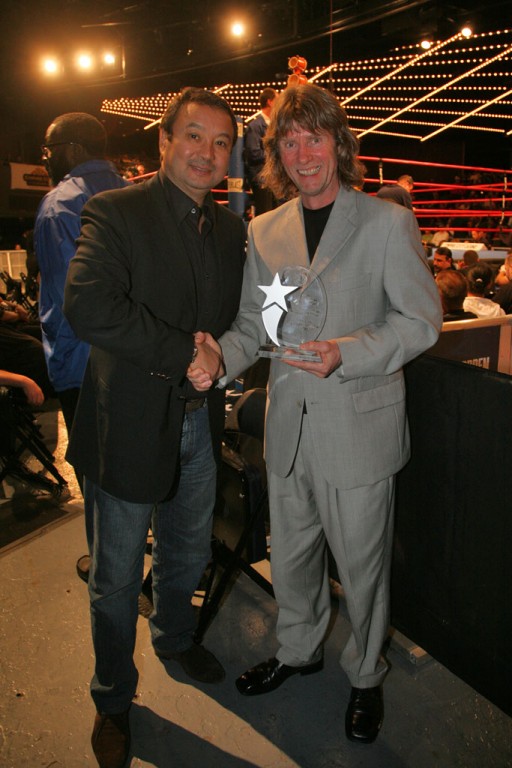 Michael Kozlowski's friend, the legendary boxer, Serik Konakbaev, was the first representative of the Russian (the Olympic style)school of boxing in Madison Square Garden to congratulate Michael Kozlowski on being awarded the honorable title "Trainer of Year." Serik Konakbaev is a gold medalist in the first Boxing World Cup in 1979 held in Madison Square Garden. The Vise president of Kazakhstan Boxing Federation, Serik Konakbaev is currently a member of AIBA!