TRAINER's BIO
Michael Kozlowski
Date of birth: August 6, 1961
Place of birth: USSR
Education: 1991 – Master's degree in sports training and a Major in Physical Culture and Sports.
1983 Aktubinsk, Kazakhstan, USSR. Michael Kozlowski fought in the quarterfinals of the Kazakhstan National Championships. Referee stopped the fight in the 2nd round, because of a cut over Michael Kozowski's right eye. While being stitched up in the hospital, young boxer Michael Kozlowski realized that he would never become a Soviet Union Champion, never go to the World Championship or to the Olympic Games… With no goal in mind, there was no point in continuing to train.
Michael Kozlowski was always an excellent student in school. In 1984, Michael Kozlowski decided to go to Leningrad (St. Petersburg) to try to get into the National Academy of Cinema to be a movie director. Former Athlete realized during the entrance exams that, being only 23 years old, he was too young for this business.
Next day, after the second examination in Cinema Academy, Michael Kozlowski left to Moscow. Not just anyone could go to Moscow in the 1980′s. You had to be a citizen of Moscow. The city was heavily patrolled by the police. They would check your passport. If you did not have a special stamp, they would put you in jail. Furthermore, without this stamp, no one would hire you. Some days Michael Kozlowski lived on bread and water, because he couldn't get a job. In 1985 Michael Kozlowski's friend, the former Soviet Union boxing National Champion, Gennadiy Kurgin, helped him find a job coaching in The Olympic Boxing School of Moscow. At the same time, Michael Kozlowski began studying to get masters degree in coaching. In Russia, at this time, you cannot coach minors unless you have masters degree. And so began Michael Kozlowski's long career as a coach, as he stood before a line of 20 boys ranging from 12 to 15 years old, all dreaming of being Olympic champions !..
Sergey Grigoriev ( Michael Kozlowski's future Russian national Champion) and Andrey Nosov (Michael Kozlowski's future first junior Olympic Champion) were in this line-up.
In Capital City of USSR, Michael Kozlowski was surrounded by the best coaches in world. They all had Olympic, World, or European champions. Working side by side with coaches like Andrey Chervonenko and Viktor Bistrov who built amateur boxing in Cuba, was the best coaching school for young boxing trainer Michael Kozlowski.
Amateur boxing in USSR, was the best coaching school for young trainer Michael Kozlowski .
Here we won't list all of Michael Kozlowski's CHAMPIONS, only first of every category.
1986 (Russia, Braynsk). Michael Kozlowski's student Andrey Nosov 119 lb (54kg) become Russian Junior Olympic Champion !
At this time, Mikhail Gorbachev was gaining power in the USSR. A lot of things were changing. Companies were becoming privatized and the "black market" became the only market. The economy was crashing. A lot of athletes, mostly boxers and wrestlers, became gangsters. Michael Kozlowski was remember, at one of the coaches meetings in Moscow, the president of the Moscow Boxing Federation, said: "A great time is coming for boxing coaches, because all the kids wanted to be gangsters, driving BMW and Mercedes Benz, and for this they go to boxing gyms…"
It was bittersweet. At this time, boxing trainers had no idea how many of their students would soon die at the hand of the mafia. Slowly but surely, Moscow was turning into Chicago in the period of Al Capone. Movies like the "The Godfather" and "Scarface" with Al Pacino and Robert De Niro were was a reality…
In 1988, 15 year old student of boxing trainer Michael Kozlowski, Andrey Moskvichov, 106 lb (48 kg), after winning silver medal in 1988 Russia National Junior Olympic Championships, made the Russian National Team. He was first Michael Kozlowski's student to box internationally, in Norway. Coach Michael could not go with him, because he did not have an international passport…
At this time, it was nearly impossible to get out of the country. For example, just to request a simple travel visa you had fill out countless applications and send 24 pictures of yourself to the government. It took many months while they did a background check not only on you but on the last two generations of your family.
The privatization of Russian companies continued, and as a result, many coaches (of all sports), became unemployed. The government no longer had the money to subsidize the athletic programs. It was a shame to see so many great coaches who had made their country proud, with no job. In order to avoid the same fate, Michael Kozlowski opened own boxing and tennis Club, "Kolomna." It was fashionable among the rich people to play tennis. They brought the necessary funds to support the boxers.
1990 (Kolomna , Russia). Michael Kozlowski's Boxing Club made his first training camp with the Under-19 Turkish National Team before Youth European Championships in Czechoslovakia.
1990, (Turkey, Izmir). Boxing trainer Michael Kozlowski left Russia for the first time. He was the assistant coach with the Russian team in an International boxing tournament.
1991 (Russia, Yoshcar-Ola). Sergey Grigoriev, 178 lbs (81 kg) became first boxing trainer Michael Kozlowski's Russian National Champion!
As a result of Michael Kozlowski's coaching accomplishments, the Government presented him with a one-bedroom apartment in the Moscow region. This is the last present he received from the USSR before it collapsed in December, 1991. In this period, in order to survive in Russia, the options were limited to being a businessman, gangster, or a policeman. Many of Michael Kozlowski's students became gangsters. In 1992, one of his best prospects was killed in a gangster dispute. He was only 19 years old… In 1993, trainer Michail Kozlowski lost another great prospect, Andrey Moskvichov. He was 19 years old too… Some of his other students were imprisoned. Michael Kozlowski felt powerless to help them. In a conversation he had with a gangster leader, ho said to coach Michael Kozlowski: "Mike, what can you give these kids, boxing medals? I can give them cars and money!.." Boxing trainer had no argument. Eventually, Michael Kozlowski realized there was no future for his Boxing Club. It just didn't bring in enough money. In 1994 alone, nine of his friends were killed by gangsters. Some of them were businessmen, some of them were gangsters – the youngest was 20 and the oldest was 37. It was no movie, it was reality. Michael Kozlowski was faced with the choice to either become a gangster or leave the country…
May 10, 1995 Michael Kozlowski, his wife, two daughters (1 year old and 7 years old), moved to Israel. Kozlowski's family were selected to be one of the families who traveled with the President of Israel, Ezer Weizman, in his plane. In the plane, the president approached Michael Kozlowski, knowing Michael was one of the Russian team coaches, and he asked Russian boxing trainer to make Israeli boxing like Russian boxing… President of Israel wanted to see the Israeli flag raised and hear their national anthem. It was like a sign from above when the president told to Michael Kozlowski this. When Kozlowski got to Israel, he found the boxing program was in a worse state than Russian boxing trainer expected. Soon after arriving in Israel, Michael Kozlowski started training street kids in the "Basmat" school playground, because there were no boxing gyms in Haifa.
Luckily, because of the climate, Michael Kozlowski could train his boxers all year outside. Yuri Foreman was first student of Israeli new boxing trainer Michael Kozlowski. It took three months to find the money to buy a heavy bag. Michael Kozlowski hung this boxing bag on his balcony and students had to line up to hit the heavy bag.
In 1997, Michael Kozlowski's boxing Team won the "Team Trophy" in the Israel Under-19 Nationals. Three students of Michael Kozlowski won three gold medals and one student won bronze. Yuri Foreman won the gold in the 132 lbs (60 kg) weight class.
1997 (Israel, Tel-Aviv). Michael Kozlowski made his first Israeli National Champion, Anton Amirov, 147 lbs (67 kg).
1997 England, Birmingham The president of the Israeli Boxing Association, William Shahada, was send young trainer Michael Kozlowski to the European Championships as the head coach of the Israeli Under-19 National Team.
When Michael Kozlowski got back from England, Roman Greenberg, a 16 year old Israeli prospect moved into his apartment in Haifa from Tel-Aviv. Is goal was to prepare Greenberg for the Cadet Europe Championships the following year, and to bring Israel it's first gold medal from a major international championship. At this time trainer Michael Kozlowski had to work on the kid's psychology. Greenberg was knocked out badly in a club show when he was only 15 years old under his former coach who made him box an international level 25 year old man. Most coaches thought Roman Greenberg was done after that KO…
1998 (Latvia, Yurmala) – Roman Greenberg 178 lbs (81 kg) came within a couple points of winning the gold against a Russian in the finals of the Cadet European Championships. We came back to Israel with a silver medal.
The following week after Latvia, boxing trainer Michael Kozlowski went to meet with the Israeli president, Ezer Weizman. Michael Kozlowski brought the silver medal from the European Championships and the Israeli Sport TV crew. Trainer Kozlowski wanted a gym for his boxers, because they were still forced to train in a school playground with no facilities. The security of president told Michael Kozlowski to go home and wait for an invitation to speak with the president. Michael Kozlowski refused to leave and threatened to begin a hunger strike until the president agreed to meet with him. After a couple minutes, the security guards returned and said that President Weizman was with the president of Turkey, but the Director General Arie Shomer would speak with boxing trainer and his European silver medalist Roman Greenberg…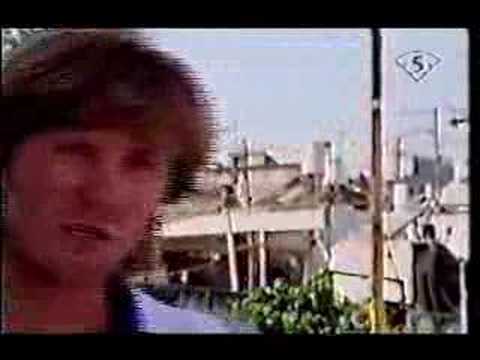 After two weeks, boxing coach Michael Kozlowski was awarded a big gym in Haifa. Rent was 1 shekel (25 cents) a year, per student!!! This news was on TV every night for a week. Every morning when Michael Kozlowski came to school "Henriette Sold" where hi was a physical education teacher, the kids would run to him and say "Michael we saw you on TV!"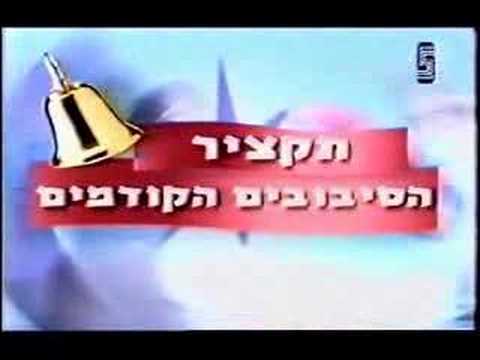 November, 1998 (Buenos-Aires, Argentina) Michael Kozlowski was the head coach of the Israeli Boxing Team in the Youth Amateur World Championship. This was the first time boxing trainer Michael Kozlowski met the USA national team, face-to-face. Israeli boxing Team were staying in the same hotel. The impression Michael Kozlowski got was that the boxers had no discipline and were there to enjoy themselves and not win medals. Michael Kozlowski spoke with the head coach of Kazakhstan team, David Kostoev, at the draw. Kozlowski asked him about the Americans. He said, "I worry more about the Russians and Cubans. The USA, for us, is a lucky draw." This is when trainer Michael Kozlowski decided to come to America. In this tournament, Michael Kozlowski's student Yuri Foreman beat Kazakhstan in his first bout, Denmark in the second bout, and lost a very close decision to Yugoslavia in the quarterfinals. This was the first time an Israeli boxer made it to the quarters in a World Championship. Michael Kozlowski only brought two boxers to Argentina. America (full team) only won one medal in this tournament, a bronze. Most of them lost in the first or second bout. Michael Kozlowski returned to Israel determined to move to America.
January, 1999 (New York, USA) Michael Kozlowski's family arrived in JFK. Michael Kozlowski had to start from nothing – new job, new apartment, and lots of new bills to pay. At this time, Michael Kozlowski decided to forget about everything he did in Russia, Israel and in the international arena. First new boxing trainer in USA Michael Kozlowski wanted to make amateur champions in this country, and then think about a pro coaching career. It is much more difficult to develop a boxer from the beginning, than it is to take a ready boxer and turn him pro. Even though it is not my country, Michael Kozlowski set out to make amateur champions. In the summer of 1999 Yuri Foreman moved from Israel to America. He lived with Michael Kozlowski as part of his family in Brooklyn. Michael Kozlowski, his wife, my two daughters (Valerie- 5 yrs old, Diana 12 yrs old) and Yuri all shared a one bedroom apartment.
New USA Boxing trainer Michael Kozlowski immediately started training Yuri Foreman in Gleasons Gym for the upcoming World Championships in Houston, TX, USA. At this tournament, small Israeli National boxing Team (trainer Michael Kozlowski and boxer Yuri Foreman) got a bad draw. Yuri's first bout was against Larry Mosley, two time USA Champion with more than 200 amateur fights. Yuri, at this time, only had 34 fights. Yuri Foreman lost 8-5…
September 1999, at Gleason's GYM American female boxer Jill Emery came to Michael Kozlowski and asked him to teach her what Russian trainer taught Yuri Foreman. She wanted to learn Michael Kozlowski's style of boxing.
April, 2000 (Midland, TX, USA) boxing trainer Michael Kozlowski make First USA National Champion, Jill Emery, 156 lb (71 kg)
In the meantime, Michael Kozlowski's wife was growing to hate Yuri more and more. She asked her husband to send Yuri Foreman back to Israel. She warned Michael Kozlowski that Yuri would betray him once Michael made him successful. She started to fight with her husband Michael Kozlowski about Yuri more and more. Soon, they were having these arguments right in front of Yuri. Finally, she said, "Either Yuri, or your family!" Michael Kozlowski took Yuri and moved into an apartment one block away from his family. Michael Kozlowski remember, as he was taking the last of his belongings from her apartment, she said, "Look, you are betraying your five year old daughter for this son-of-a-bitch." Michael Kozlowski said: "Listen, I will never betray my children or my students, ever!" Michael Kozlowski's wife immediately started divorce proceedings.
April, 2000 boxing trainer Michael Kozlowski had two boxers in the finals of the New York Golden Gloves! Michael Kozlowski was very excited to introduce his boxing style to America in Madison Square Garden in the oldest amateur tournament in the world. Jill Emery won the gold and Yuri Foreman, lost a close fight with Luis Callaso. Luckily, since Luis Callaso was turning pro, Yuri Foreman advanced to the National Golden Gloves.
May 2000 (Detroit, MI, USA). In USA National Golden Gloves Michael Kozlowski's student Yuri Foreman (147 lb, 67 kg) won the bronze medal ! It was the only medal the New York Team won.
May 2000 (Turku, Finland) First trip of boxing coach Michael Kozlowski with USA Women's National Team. Michael Kozlowski's student Jill Emery (156 lb, 71 kg) won the Gold Medal !!!
When Michael Kozlowski was a boxer, his dream was to win the Olympics and hear the Soviet Union Anthem. Then, trainer Michael Kozlowski was dream that one of his Russian students would come to this point and hear the Russian anthem. When Michael Kozlowski was a coach in Israel, a few of my students were only a step away from the Israeli anthem. It was not until Michael Kozlowski was in Finland, did one of his students stand on the podium with the American flag raised while they played the American anthem. Michael Kozlowski felt it was a sign that he was finally in the right country.
June 2000 (USA). First Michael Kozlowski's student Jill Emery was selected by USA Boxing: "Athlete of the Month".
2001. First Michael Kozlowski's student Yuri Foreman (156 lb, 71kg) became New York GOLDEN GLOVES Champion.
Michael Kozlowski remember, at this time, Yoel Judah, father and coach of the IBF world champion Zab Judah, asked him how long he had been in America. Michael told him two years, and Yoel said: "You made more champions in two years than some coaches who were born here….I am proud of you!.."
2001 (Scranton, PA, USA). First Women's World Championships. USA Women's National Team member in weight class 147 lb (67kg) was Michael Kozlowski's student Jill Emery.
2001 (New York, USA) Michael Kozlowski's first Professional Boxer – Yuri Foreman (154 lb). This was the beginning of Michael Kozlowski career as a professional coach. New professional trainer Michael Kozlowski did not know, at that time, how dirty this business is. He had a good team with Yoel Judah, and Jimmy Judah behind new rising prospect Yuri Foreman.
2002 (USA, Augusta, GA, USA). First Michael Kozlowski's USA National PAL Junior Olympics (13-14 years Old) Champion – Daniel Castillo (119 lb, 54 kg)
In Autumn of 2002, Yuri Foreman was 6-0 (3 K.O.'s). One day at this time Yuri Foreman came to his trainer Michael Kozlowski and said: "Michael, the promoter told me that 'if your no-name coach stays in your corner, you wont be on television'". Coach Michael Kozlowski told him: "Yuri, who brought you to this promoter? Who brought you to this level? Now you have to defend me. They have to do what you say. They need you. If they don't listen to you, we can go to another promoter." Yuri continued: "They told me to train with Tommy Brooks to learn an American style." Kozlowski replied, "What is an American style? You've been training for eight years with the same style. We don't have time to switch our style. You have no power or chin for an American style. If you lose one fight, that will be the end of your career. How many good Russian boxers came to America? Hundreds. Where are they? They disappear because they change their style…Yuri, please don't betray me, don't betray our dream…"
After this conversation, Yuri Foreman stopped coming to Gleason's GYM. Michael Kozlowski's students then told him that Yuri Foreman went to New Jersey to train with Tommy Brooks. Zab Judah at this time consoled me and told me not to worry. He told to coach MIke: "Michael, don't be upset. Tommy Brooks trained me and I know that he's not on your level. Yeah, Tommy Brooks trained Holyfield and Mike Tyson but we all know who their real trainers were. You'll see, Yuri will return…"
Weeks and weeks passed. Michael Kozlowski continued to count every dollar, waiting for a call from Yuri Foreman. Then one day, Michael Kozlowski became so mad that he felt that if I were to see him he would tear him to pieces. Michael Kozlowski started to ask his students how he could find Yuri so that he can have a serious man-to-man conversation with him. But this was not like Rocky V. One day in December in 2002, two FBI agents came to Michael Kozlowski's job, M&A Linens, and forced their way past Michael Bernesteyn, who helped raise money for Yuri Foreman to travel to Houston. They then began to investigate trainer Michael Kozlowski. Based on what Yuri Foreman told them, they told to Michael Kozlowski that he was a part of the Russian mafia and trainer sent someone to put a gun to Yuri Foreman's head. For two hours, they tried to make trainer Michael Kozlowski confess to criminal charges. When they left they told him, "If you come closer than a few yards of Yuri Foreman, we will send you back to your f—ing Russia."
This was Yuri Foreman's way of pushing his trainer Michael Kozlowski out his way. This was the biggest betrayal of Michael Kozlowski life.
April, 2003, New York, USA. Michael Kozlowski's first American born student Damien Rapley become New York Golden Gloves Champion in 201 lb (91 kg) !
April 2004 (Tonsberg, Norway) First Female American to win Gold in world class tournament – Jill Emery (138 lbs, 64 kg)
May 2004 (Istanbul, Turkey) First Female USA boxer to win second straight world class tournament – Jill Emery (138 lbs, 64 kg)
2004 (Brownsville, TX, USA). Michael Kozlowski's First USA National Junior Olympic Champion (15-16 years Old) – Oleksander (Sasha) Mamoshuk (189 lb, 85 kg)
2004 (Chicago, USA). Boxing trainer Michael Kozlowski,s First USA National Women's "Golden Gloves" Champion – Yelena Binder (138 lb, 64 kg)
2004 (USA). Boxing trainer Michael Kozlowski's student Jill Emery by USA Boxing became USA Boxing "Athlete of the Year" !
2005 (Ft. Lauderdale, FL, USA) boxing trainer Michael Kozlowski's First Female PROFESSIONAL BOXER – Jill Emery did her pro debut and won unanimously .
2005 (Panama City, Panama) coach Michael Kozlowski's students became Panamanian National Champions – brothers: Gabriel Castillo (132 lb, 60 kg) & Daniel Castillo (141 lb, 66 kg) .
Gabriel Castillo received the "Outstanding Boxer" award ! Now, boxing trainer Michael Kozlowski's style is respected in Panama too.
2005 (Kansas City, MI,USA). Ringside World Championships. Boxing trainer Michael Kozlowski brought on this International Tournament seven his boxers and won three Championship belts, two silver medals, and one bronze.
2005 (Colorado Springs, CO, USA) MIchael Kozlowski's First under-19 USA National Champion – Sasha Mamoshuk (201 lb, 91 kg). In this tournament, another one of Michael Kozlowski's student, Semuel Pagan, who he co-train with his father, won the gold medal (119 lb, 54 kg). Over a year ago, when his father, Robert Pagan (former USA kickboxing champion) asked trainer Michael Kozlowski to help train his son, many coaches at Gleasons Gym told him he was making a mistake, because Russian trainer would destroy him by switching his style. Michael Kozlowski's goal was not to switch Shem Pagan's style,but only to add the best things from coach Mike's style to his style. Together, we won the 2004 NY Metros, 2005 New York Golden Gloves, and now the 2005 under-19 USA National !..
March, 2006 (Nicaragua, Managua) Central American Games. It was boxing trainer Michael Kozlowski's first time to represent the National Panamanian Boxing team as a 2nd coach. The National Boxing Team of Panama won 1 Gold medal, 1 Silver medal, and 3 Bronze medals. Michael Kozlowski's student, Danielle Castillo brought home the Bronze.
June 2008 г. Michael Kozlowski's student Jill Emery became his first female professional IFBA WelterweightChampion of the World !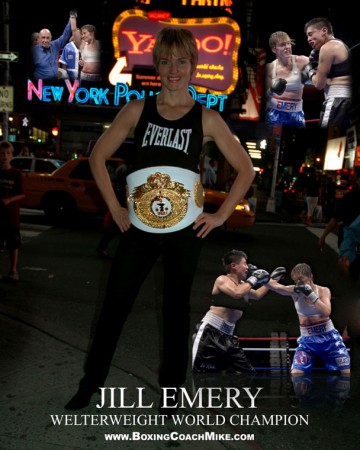 November 2009. Michael Kozlowski's student Yuri Foreman became his first male professional WBA Champion of the World !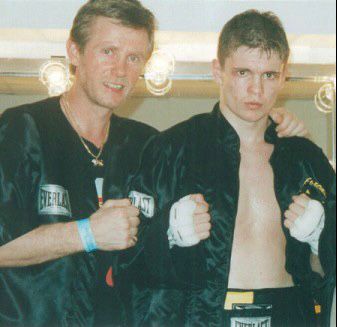 April 7 and 8, 2011. Boxing coach Mike's GOLDEN TEAM ! In Madison Square Garden were the 84-th NY Daily News Golden Gloves finals, four students of boxing trainer Michael Kozlowski were in the finals. Three of them became champions in one of the most prestigious boxing tournament in the USA!
April 2011. Boxing coach Michael Kozlowski's student Iegor Plevako (WIN or DIE Boxing Club), won the Sugar Ray Robinson Award most outstanding open boxer of Daily News Golden Gloves 2011 !
April 5, 2012 – Michael Kozlowski – COACH of the YEAR 2012!
MICHAEL KOZLOWSKI BECOMES GEORGE WASHINGTON MENTORING AWARD RECIPIENT

When Jill Emery needed training, he gave it to her. When Yuri Foreman needed toughness, he supplied some. When Iegor Plevako needed a place to stay, he obliged.
Michael Kozlowski was born in Kazakhstan and raised during the reign of the former Soviet Union. He began boxing in his teens and in 1983, advanced to the quarter finals of the Kazakhstan National Championships. The bout was halted when the referee determined Kozlowski was unable to continue due to a significant cut over his eye. The youngster was stung by the loss, but knew his talents as a boxer were limited. Still, he felt a deep connection to the sport.
"Some kids were born to be champions," he said. "I was number three or four, (but) never number one or two. (But) the coaches that trained those champions trained me too."
Kozlowski soon found that his success in the sport would not come between the ropes, but from behind them. In Moscow, he diligently studied for a master's degree in coaching, a requirement at the time in Soviet Russia. By 1991, the coach produced his first national champion, Sergey Grigoriev, at the age of 29. The feat remains one of his proudest career moments.
Soon after, the young coach's career began to blossom. In 1995, he left the Soviet Union for Israel and was later selected to coach the Israeli national team. After developing several Israeli national champions, he decided to challenge himself with a move to America. Early in his U.S. experience, Kozlowski shared a one-bedroom apartment, with his wife, two daughters and aspiring boxer, Yuri Foreman.
The trainer's first experience with the Daily News Golden Gloves came in 2000, when the fiery corner man helped drive 156-pound Jill Emery to a women's gold and Foreman to a pair of silver Gloves in the 147-pound open final. Kozlowski's early tutelage would be highly instrumental in Emery's IFBA World Welterweight Title win in 2008 and Foreman's WBA World light middleweight championship in 2009.
Though he's tasted success as a professional, Kozlowski, like his idol Cus D'Amato, maintains an undying respect for the amateur level, where he has continued to produce champions.
"Real boxing is the amateurs in the Golden Gloves", Kozlowski said. "This is the future."
His latest prospect is Iegor Plevako, who in 20011 captured the super heavyweight open division at the Golden Gloves as well as the tournament's best open fighter. Like Kozlowski, Plevako yearned for American success from native Ukraine. After journeying to the state in 2010, the super heavyweight met and decided on Kozlowski as his coach.
"I've been boxing since I was a kid," Plevako said. "I see when trainers are good and when they're bad (and) I really see it in Mike. He's a real coach."
In addition to their ring relationship, Plevako, like Yuri Foreman years ago, calls Kozlowski's apartment home.
"A lot of coaches train you just to train," Jeremy Fiorentino, another Kozlowski product said. "But, he loves me. When I lost in the 2010 Golden Gloves, he was the one who called me to go to Kazakhstan to fight. Not everyone would just take me like that. There's love in the relationship."
Throughout his boxing career, Michael Kozlowski has orchestrated the building of champions inside and out of the ring. His success has been measured, not by the hardware of his students, but by the men and women they've become.
Kozlowski's life and boxing philosophy is embodied by the name of his gym: Win or Die. As the trainer sees it, if you can't strive to win at life, why bother living?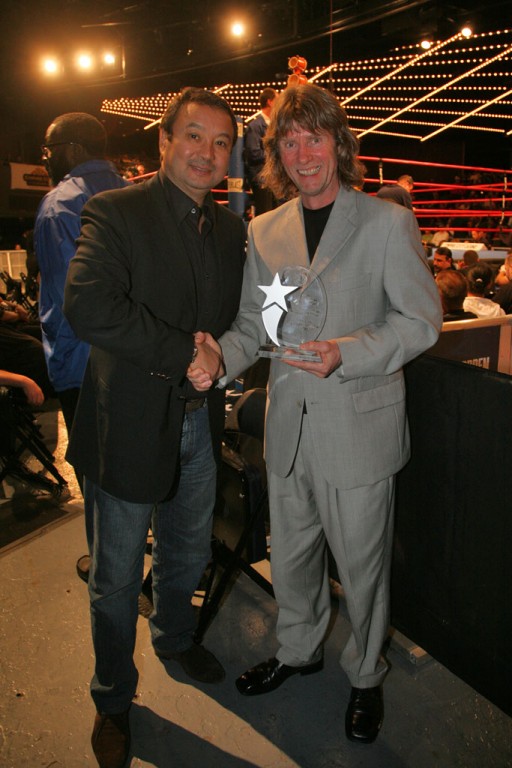 Michael Kozlowski's friend, the legendary boxer, Serik Konakbaev, was the first representative of the Russian (the Olympic style)school of boxing in Madison Square Garden to congratulate Michael Kozlowski on being awarded the honorable title "Trainer of Year." Serik Konakbaev is a gold medalist in the first Boxing World Cup in 1979 held in Madison Square Garden. The Vise president of Kazakhstan Boxing Federation, Serik Konakbaev is currently a member of AIBA!