Posted on 08. Aug, 2018 by BoxingCoachMike in News
Professional boxer from Kazakhstan, Temirlan Raimkulov (2-0), flew to New York to study the Russian Boxing Technique and footwork of American boxing trainer, Michael "Coach Mike" Kozlowski, to reach a higher level in professional boxing!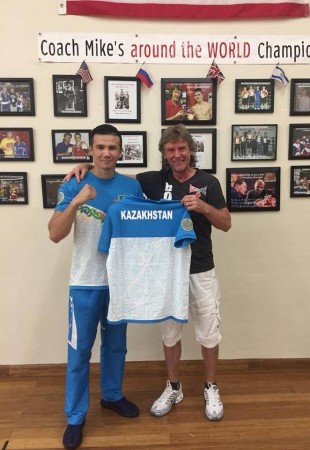 In last twenty years of training career Boxing coach Michael Kozlowski built in America many World level Champions both in amateurs and in professionals!
All the amateur boxing career (1976-1984) of the Master of Sports of the USSR in Boxing, Michael Kozlowski, was held in Kazakhstan!
The first steps in boxing as a Boxing Trainer Coach Mike did in Russia, in Moscow, in 1985.
In the 80th, in Taraz City, Michael Kozlowski and Tamerlan's father, Sabur, trained with one Boxing Trainer, Kenes Omarov, in the Dynamo Sports Hall ….