Posted on 10. Jan, 2021 by BoxingCoachMike in News
It so happened that not very talented students of boxing trainer Michael 'Coach Mike' Kozlowski, which owing to trainer's technique and footwork, as well as psychological training, achieved the highest results, both in amateur and professional Boxing, for who trainer invested his own time more than for others students , and these years, years and years, as well as talent and physical and emotional strengths, not to mention the financial side of the process of raising a Champion, and they, with different reasons, betrayed the trainer, but very similar finished their most important fights …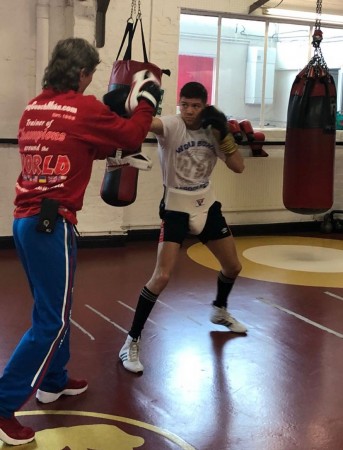 So it was with his biggest prospect Yuri Foreman, with whom they went a long way in amateur boxing, and who betrayed the Coach Mike at the beginning of his professional career!
Now it was the turn of the 2012 Olympic Champion, Luke Campbell, with whom Michael Kozlowski began working from the beginning of 2008 and stopped working two years ago!
Two years ago, Michael Kozlowski in an open letter to Luke Campbell(you can see the Letter in the end of article) predicted a similar course of events in the professional career of his English student!
Last Saturday, a young, ambitious and very talented American boxer Ryan Garcia knocked out Luke Campbell and became a contender for the World Crown of Lightweight Division!
The first days of Michael Kozlowski's collaboration with Luke Campbell, the American coach brought up his student from England on the example of the footwork of Sugar Ray Leonard and Oscar De La Hoya! It is noteworthy that at the last training camp, when Michael Kozlowski lived with the Campbell family and they talked a lot, Luke once told his mentor that he was still watching the fight of Oscar De La Hoya against Felix Trinidad and that right now, when he was approaching the highest level in his professional career, he is beginning to understand more and more the importance of Oscar's footwork in that fight!
Michael Kozlowski recalled this conversation more than once immediately after the announcement of the fight between Luke Campbell and Ryan Garcia! After all, Ryan Garcia is currently the main prospect that lays the golden eggs in the promotion company of Oscar De La Hoya!
And what was the surprise of the Boxing trainer, Michael Kozlowski, when his former student, Luke Campbell, from the very first minutes of the fight, neglected the technique of footwork and striking from a distance, on which they worked together for more than ten years!!!, against the less mobile, but more fastest and with knockout punches from both hands, opponent
From the very first minutes of the fight, Campbell began to box, or rather stand, in a timing that better worked for his opponent!
And the talented Ryan Garcia took advantage of it immediately!
Campbell managed to deceive Garcia's with the hook to the chin and send him to the canvas, but the further wrong strategy for the Englishman's fight only increased the American's confidence in success!
Interestingly, a few hours before this fight, Coach Mike received this message from his student from Ireland, where him asked the trainer's opinion on the upcoming fight of Luke Campbell.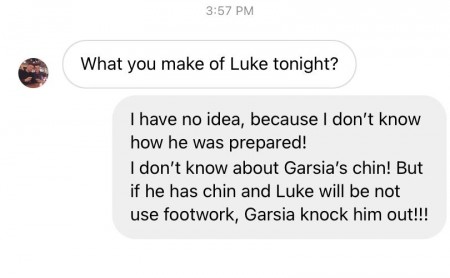 The second round of the fight showed the condition of Garcia's chin, and Luke Campbell's lost footwork was visible from the first minutes of the fight!
And, as the former coach of the Englishman assumed, the knockout was not long in coming!!!
And if we will speak without irony about this fight and about the similarities between the two students of Michael Kozlowski who achieved great results in Boxing, it is necessary to point out their common psychological component!
Both of these boxers were cowardly boys from birth, but they had a natural tough character, and were born with a very great vanity, which, according to trainer Michael Kozlowski, is a very important natural factor in raising a Champion, which cannot be instilled or trained! Over the years of their physical development, including boxing and the street life, Yuri Foreman and Luke Campbell brought this innate reflex of cowardice (scientifically called the instinct of self-preservation and is we have in all normal people) to the level where even the signs of this mental stability could not be seen by a regular people!!!
Here's what Boxing Trainer Michael Kozlowski says about how he managed to bring the apparently unstable psychology of Yuri Foreman and Luke Campbell to a higher level:
"They both saw on a subconscious level or, more correctly, felt, because human psychology is more based on feelings, that I love them as sons and therefore, when I pointed out, and sometimes even in a very, very harsh form, it was precisely on those moments of their cowardice that happened during sparring or fight and the ordinary coach does not see it, because my boys managed to hide it from regular eyes, they saw and felt that I was right!!!
They knew that in the fight or in the sparring I could see right through them! And my view of these psychological things was very important to them! I saw that, sometimes, they were more afraid of me than of their opponents! This was at odds with our close relationship, because I felt that at some point in my harsh moral teachings they began to hate me, but I had no choice! I needed a Champion, not a friend! I am sure, if I had not been tough at the right moments to breaking their character and trained them only through our friendships, no one knew them!!!
Luke Campbell, at the age of thirty, confessed to me that during the years of joint training, when he was 19 years old, he was very much afraid of me. And even despite the fact that, after several months of working with me, he tried, secretly from me, to train with Freddie Roach in Los Angeles, some unknown force (in his words) pulled him back to me. .. and, as a result, he, as a student, returned to me!
I am three hundred percent sure that he made the right choice, otherwise he would not have won Olympic Gold and, quite possibly, with his boxing skills and very far from the best natural abilities, I am not even talking about the psychological component of his character, I do not exclude that he maybe not even have gotten to the Olympic Games!!!
Therefore, despite the fact that Yuri and Luke were afraid of me as a coach and, that is not less important, as a mentor too, they, at the same time, and on a subconscious level too, feeling my fatherly love for themselves.
They understood that Coach Mike is only one person who, in addition to teaching their technique and footwork, also psychologically will help them to enter the World Boxing Orbit, which they dream of from the first steps in this sport!"
"Now, with full confidence, I can say, that the unprofessionalism of Campbell's team, which led to the wrong strategy for the fight, will play a very cruel joke in the professional career of the Olympic Champion!
- Michael Kozlowski continued,-
What was the unprofessionalism of Luke Campbell's team???
First of all, it lies in the fact that the trainer and the boxer do not understand that Ryan Garcia's punches are completely different from those of Linares or Lomachenko!
When Luke took the clean punch from Linares and Lomachenko those punches move the threshold of fear (which is directly related to the psychology of the boxer) at Campbell, then the missed strikes of Garcia already brought this threshold closer !!!
Garcia's punches are of a completely different quality, and even if a boxer after these punches can return to continuing the fight again, this does not mean that psychologically he has not lost the fight already!!!
And Campbell was no exception!
After the first really serious punch by Garcia, which Luke took at the end of the fifth round, knowing Luke well, I saw from his facial expressions that, in a few seconds, he became a completely different boxer with much less faith in himself!
And Campbell's missed liver punch in the seventh round only helped him to finish the the fight with the much less pain!!!
It seems to me that the psychological process of a possible loss by knockout appeared in Luke's head precisely after the punch which he missed at the end of the fifth round …
What else can I say about this? ..
English speaking people have a good saying: "If it doesn't break, don't fix it!"
It is very sad, that Luke Campbell, with his native English, forgot about this… "
OPEN LETTER from Michael Kozlowski to Luke Campbell after the last professional fight, when they worked together!
May 12, 2018
hey Champ!
what's f…ng going on !!!!
It has been one week already, as I come back from London and still nothing from you, no APPRECIATION, no THANK YOU Mike, for my work, that I more then a month performed with you in your training camp!
I understand you were busy after the fight and might've forgot to say some good words of thanks…
Luke, you forgot to say THANK YOU to me for your fight, in which everybody, including Paulie Malignaggi, who told you in front of me about your good performance and he saw big changes in you, keeping distance, with good footwork, progress of speed and power of your punches!!! And two knockdowns you did exactly by our preparation and scenario!!! Long punches!!! Flexible!!! Relaxed!!! EXACTLY WHAT I TOLD YOU COUPLE MONTHS AGO: Some day if you continue to LEARN my TECHNIQUE you're gonna do yours punches or from the distance BY STEP FROM THE MOVEMENT(2nd round) or you gonna do STOP(I called it Anchors)PUNCHES (4th round) using your distance and after that you're gonna make step back, opponent will be on the floor and you QUIETLY:)) go to neutral corner!!!
Luke, my right elbow STILL VERY HURTS after our workout on your Stop Punches by your front hand:))
Hey Luke, did you FORGET ABOUT MY PREDICTIONS OF YOUR FUTURE KNOCKDOWNS or KNOCKOUTS TOO????
Or it again came to your technique from above, from nothing??? And COACH MIKE again didn't do NOTHING for that???
Luke, you forgot to THANK ME for that I, almost for free, worked in your training camp!
Luke, you never APOLOGIZED that you deceived me, when you invited me in your training camp with full accommodations including meals. You knew, that I agreed to come to you with losing some of my money, which I can make at home, because you complained that you have no money!!!
But when I flew to England you put me before the fact, that I should make my own meal on my expenses!!!
I again sacrificed for you only now by my PREGNANT wife and 2yrs old son, that I left ALONE in America, and from which I took several hundred dollars to buy my meals!!!
It was much more painful because only couple weeks ago I asked my Friend to help you and he payed for your hotel when you come to New York to learn my Boxing technique!!!
Luke, you forgot to say THANK YOU Coach Mike for the all the training plans that worked!!! You forgot to say THANK YOU Coach Mike for all training program in your camp that was under my control !!! EACH DAY from early Morning till the moment, when you walked to the bed!!!
Luke, after first week of the camp and after first sparring I told you that I will go back to NYC, because I could not see any more ungifted, unorganized and foolish trainings ever in my coaching life that I saw under leadership of cuban coach, Jorge Rubio!!! I then told you, that I can't watch how Cuban trainer ruins you!!! Jorge Rubio already from the first rounds of your first sparring forced you to go forward(inside) and fight against opponent who was much heavier and stronger than you !!!
And when I advise you keep distance and not to fight, but keep boxing, Rubio starts to make hysterics screaming on me and called me to fight him in front of the boxer and his trainer from Liverpool!!!
It was actions of a REAL SICK PERSON!!!
Jorge Rubio during your sparring continued screaming on me and saying that I don't understand Boxing, but he is such a great coach and he even was trained Amir Khan!
But everybody who understands boxing seen his work as a trainer with Amir Khan, when by stupid strategy, Amir Khan was knocked out in the first round by Prescott!!!
I already from the first days of my work in your training camp saw coaching incompetence from this Cuban coach and I told you about it. You were completely in agreement with me!!! I saw Rubio's disrespect to other coaches of our team and I told you about it too.
At this moment you promised me that cuban coach no more will be allowed to planning and activity training process till the end of training camp!!!
Luke, you promised me, that cuban coach will be working with you on pats in his style, which I call masturbation, much less than before and only when I let him do it!!!
Luke, I respect you, because you kept your word!!! and whole training camp Jorge Rubio don't interfere with our training process! And you, day by day, started to be better and better as a boxer!!!
And I was very surprised when in one week before the fight you picking Jorge Rubio as a head coach of your fight. You were picking a person which from the first days of training camp was out of training business and did spend more time with his friend from London or in his room sleeping, or with his phone watching football matches.
Luke, you remember, when you told Jorge that he will be in the ring with you, he asked you to tell him the name of your opponent!!! It's like a comedy club:)) In a week before the fight you put a coach in the ring who even does not know the name of your opponent!!!
I was very disappointed, but only because I promised your wife not make you nervous and not arguing with you before the fight I didn't say nothing…
Then in two days before the your fight your favorite coach, Jorge Rubio, without your permissions disappeared from our training camp in London.
He was showing up in the upcoming morning at the couple hours before the weigh-in
Simply crazy-house!!!
In last moment you put me in Jorge Rubio's position, but still keep him around me!!!
Luke, you saw, and you told me about this after the fight, that you did see too how Jorge especially, tried display me from itself, in training room, before your fight…
Im sure in 300%, if this cuban clown wasnt in the dressing room before your fight you finished this fight much much earlier !!!
Luke, you, as minimum, ten years, on public, always forgot even mention my name, name the coach, which forced you much stronger to believe in yourself, which taught you unique technique and footwork, the coach who was helping you become one of the best amateur boxers of the World!
Ten years I closed my eyes on your lack of appreciation, and thanked God who blessed me to use my talent of mentor and psychologist, my unique technique and my footwork to help you to be better!!! I always was proud of your success in the ring, confirming my real additions to your Boxing style!!!
Three years ago you called me to come to your home and help you to get out of depression!!!
I flew straight to England to support you and again having lost my money!
I helped you come back into the Boxing business after your depression!!! And after this you again forgot about me!!!!
After this unthankful I told you that I no more work with you, because, besides yours ungrateful, you stopped listening to me, as your coach, and I dont see your future anymore.
You were even not responsible to call me back!!!
But you DIDN'T FORGET to contact me and fly to me after your second loss in the professional ring!!! After two losses you flew to me for help!!!
And I again took you close as my son!!!
Did you remember when you come to New York to see me after your loss to Linares and you told me that you miss me very much as a trainer before you fought him ???
Did you forget when I started to train you again after the Linares fight I told you that you're Technique and footwork are very terrible??? And you told me that it's the reason why you came to work with me again!!!
I still can't believe that YOU are a USER!!! And you told me MANY TIMES in New York and in your home in England that you are growing and you very different now! You will not hurt me in the our future!!!! Are YOU LIED to me AGAIN???
You again stole from me my unique plans and my ideas of preparation how to use my Training camp by science!!!
You think, that you, as you did earlier, when you write down my manuals and correct your errors, you will become better???
I remember when you many times during training camp told me that Jorge Rubio was really LEARNING from me how to make a Training process and how to teach you to be a good boxer!!!
But I flew to your training camp not for teach Jorge Rubio to be the coach and show to him my secrets of technique and footwork by which I built so many Champions around the World!!!
Luke, yes, at this moment, after my huge investment in this training camp in your technique, your footwork and your psychology, you can beat Mendy!!!
But in the future when mine Technique energy and mine psychology influence will be finishing, you, with training by this Cuban coach, will be in same ending, as Amir Khan in the his fight against Prescott!!!!
Luke Campbell, did you f…cking up my LOVE to you AGAIN???