Posted on 11. Apr, 2018 by BoxingCoachMike in News
Since the late 1980 and early 1990-th of the last century, Russian boxing coach, Michael Kozlowski, prepared Champions of Russia in different age categories. Since 1999, Michael Kozlowski began his coaching career in America and, long before acquaintance with Luke Campbell, Russian coach brought up many Champions and winners of the USA Nationals in different age categories!
For many years of successful coaching in the United States, Michael Kozlowski managed to combine all the best from the Russian Boxing School of Boxing with the talented achievements of American coaches and boxers !!!
Russian-American boxing trainer Michael Kozlowski began working with Englishman Luke Campbell in 2007 learning his technique and footwork, a mix of the Russian and American Boxing styles. With significant changes and additions to Luke's technique and footwork, the technical training of Coach Mike assisted the English boxer to become the 2008 European Champion and the 2012 Olympic Champion.
Before his professional debut in 2013, Luke Campbell with Coach Mike continued their technical training with greater focus on technique and footwork.
Two years ago Boxing trainer Michael Kozlowski stopped working with professional boxer, Luke Campbell, because the boxer began to pay less attention to Coach Mike's technique and footwork …
Now, after the two defeats in the professional career of Olympic Champion, Luke Campbell, the English boxer has invited, Michael "Coach Mike" Kozlowski to reunite at his training camp in England. The English boxer and Russian-American trainer are now working together focusing on track & field tests at the sports complex in the boxer's hometown of Hull.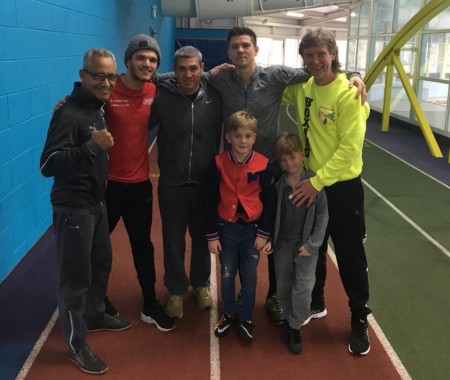 That's how began the joint work of the boxing Coach Mike and future Olympic Champion Luke Campbell:http://boxingcoachmike.com/michael-kozlowski-makes-european-champions-in-boxing-part1.html