Posted on 25. Nov, 2019 by BoxingCoachMike in News
Promoter the Uprising Promotions, Ronson Frank, asked Boxing trainer, Michael Kozlowski, to prepare his boxer Vladimir Tereshkin for the next fight.
The undefeated 31-year-old Russian native Vladimir Tereshkin, who has 21 wins, with 11 knockouts, will be fight against undefeated Boxer from the Dominican Republic, Francisco Silvens, whose track record included 23 victorious fights with 22 knockouts!
There was a month left before the fight and Coach Mike, how call the Russian Boxing trainer Michael Kozlowski the boxers and trainers in America, agreed.
In the process of preparing for the fight, a lot of work was done on the technique and footwork with the sense of distance of the Russian boxer.
The promoter Ronson Frank on the recommendation of Coach Mike did a good job selecting sparring partners to work with the Russian heavyweight …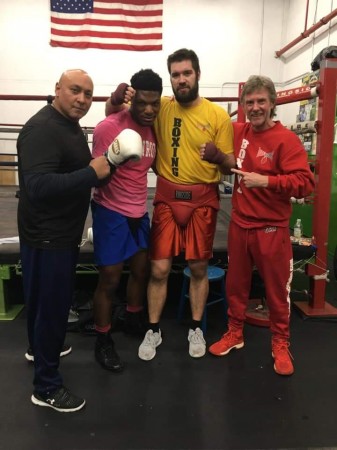 Due to the fact that with individual work and greater workload with Vladimir Tereshkin, Michael Kozlowski began to sacrifice the time of his students and clients, which immediately affected the salary of the coach! The former Michael Kozlowski student, in which the trainer saw his first Olympian, and now a successful businessman, Timofei Kurgin, supported his coach and provided him with financial assistance so that working with a professional from Russia would not affect earnings!
A week before the fight, the team of Vladimir Tereshkin arrived in Jamaica, where the boxer and the trainer continued their preparation for the fight.
The battle took place at the central stadium of Kingston.
The first rounds were a bit tense, but Vladimir adapted to the aggressive manner of his opponent and after several knockdowns, that counted the Dominican in forth round, the fight was stopped ahead of schedule in favor of the Russian boxer!