Posted on 08. Dec, 2010 by BoxingCoachMike in News
November 20, 2010, Casino Mohegan Sun, CT, USA
Once again, Jill Emery proved that she is one of the best female boxers in the world in the welterweight division! On Saturday, November 20, at the Mohegan Sun Casino, on the under card of undefeated Paul Spadafora, Jill Emery faced "Hometown Favorite," Adelita Irizarry, then raznked 2nd in the Welterweight division.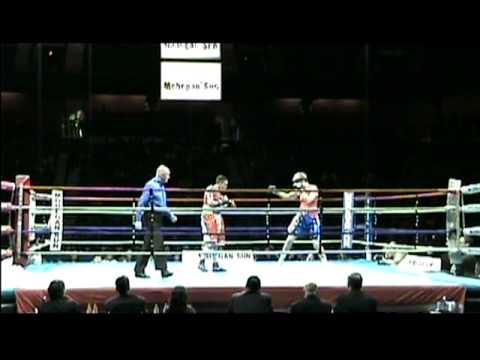 In Emery's last fight, she fought the undefeated, local Swedish favorite, in Sweden. She was robbed. This says a lot about the Swedish judges, plus the fact that she could not even get a video of the fight after wards. Emery contacted the promoter many times, but he claimed that the show was not recorded, despite the presence of ringside video cameras.
Once again, Emery got in the ring against another "hometown favorite" knowing that a win in the BLUE CORNER can only come from total domination throughout the fight or by knock out!
Emery and her coach Michael Kozlowski knew about the very aggressive style of Adelita Irizarry, and so they made the following strategy: from the first seconds of the fight, don't move too much, just stop her in her tracks with the left hand. (Jill Emery is a southpaw).
The strategy worked! 30 seconds before the end of round one, Jill Emery's straight left sent Irizarry to the canvas!
Fightnews.com printed the following: "Female welterweight Jill Emery (10-4, 4 KOs) landed a quick left hand that knocked her opponent Addy Irizarry (8-5, 2 KOs) out cold at 1:26 of the first round…"
Jill Emery's future plans include calling out the Swedish fighter, Mikaela Lauren, for a re-match in New York City.