Posted on 16. Apr, 2013 by BoxingCoachMike in News
2012 Olympic Boxing Champion from England, Luke Campbell, surprised his American coach, Michael Kozlowski, recently in Gleason's Gym, as he trained his young prospects.
Luke apologized for not having arrived earlier to thank the trainer for all the work he'd done prior to the Olympics, but he was busy starring in "Dancing on Ice" in the
United Kingdom.

Luke Campbell was only in New York for a few days for a photo session. He realized he forgot to bring his Olympic Gold Medal once he was already on the plane. He promised to return soon and bring the medal to show to his American based trainer, Michael Kozlowski.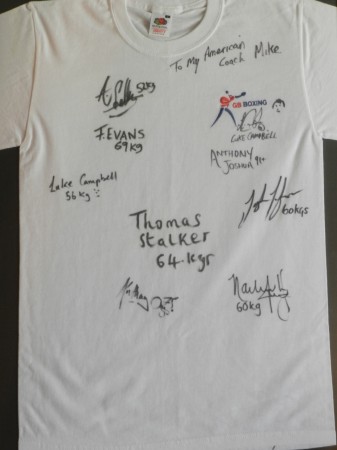 Luke Campbell presented Coach Mike with an Olympic Boxing team T-shirt with autographs of all the members of the English National Boxing Team including the two Olympic Champions: Luke Campbell and Anthony Joshua !!! This T-shirt deserves a special place in the museum of boxing memorabilia in Michael Kozlowski's home.
http://boxingcoachmike.com/michael-kozlowski-makes-european-champions-in-boxing-part1.html