Posted on 07. Oct, 2021 by BoxingCoachMike in News
Mark Breland is one of my very first boxing friends in the USA.
Boxing connoisseurs of the older generation will remember his sensational victory in the 1982 World Boxing Championship final over the Soviet Boxer, Serik Konakbaev, who, according to the results of 1981 AIBA named the Best Boxer of the World regardless of the weight category.
Mark Breland is considered by many amateur experts to be the Best Amateur Boxer USA of All Time!
Once, after Mark Breland had been leading Deontay Wilder's training camp for several years as Head Coach, I asked him why he didn't teach his Champion the technique and footwork, at least of such quality that he would not lose his balance, while striking or during movements in the ring?
– He doesn't want to study!!! – unperturbed
Mark answered me …
I then thought, that with such a coaching approach or discipline Wilder, as a boxer, will only degrade and his future opponents will be easy calculated him!
And such calls to miscalculate the actions of the invincible Knocker began long before the fight with Tyson Fury!
And if in the battle with Arthur Shpilka this bell already resembled the sounds of a small bell, then after the battles with Tyson Fury it was already a bell alarm!..
I have known Deontay Wilder since his amateur career, when my student, who was number two after Gary Russell in the 2008 USA Olympic Boxing Team, was on the same team with him.
Then, more than once, I met Wilder at the New York Gleason's Gym, where Mark Breland coached him when the Champion was in New York.
Deontay is a very simple and positive guy. Once I asked him to give a lecture on the importance of discipline in Boxing, to my very talented and very lazy prospect.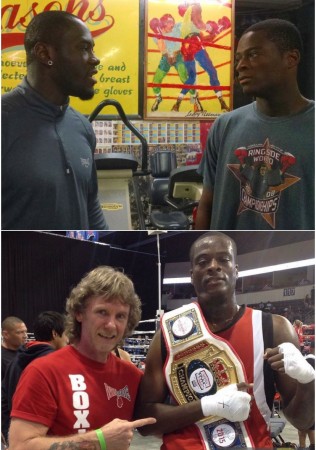 Despite being busy, Wilder spoke to him for life in a respectful and moral tone for HALF-HOUR! I myself did not expect such an attitude from the World Star of Professional Boxing to my request and started to respect the Champion even more …
Deontay Wilder in life and on the media platform are two completely different people! In life he, as they said on my Street, is our boy … And, naturally, I was very upset at his first defeat, although I understood that it should have happened anyway! And if not from Fury, then from another challenger with a competent team! ..
I met Malik Scott in the training camp of Olexander Usik.
From the very first sparring sessions, he impressed me with his natural blessing and reflexes! To say that he was good is to say nothing! I saw in a 40-year-old guy a huge untapped potential, which would be more than enough to become a Global Star after the retirement of Tyson and Holyfield….
We have talk a lot!
At first, due to the fact that the English-speaking people at this Training Camp could be counted on the fingers of one hand.
Then it turned out that my student, Yuri Foreman, who was the same age as Malik, was famous in the US Amateur Boxing when Scott was an amateur boxer of the National Team caliber…
In the process of reminiscing about boxing life in the United States in the late 90s, early 2000s, we found many common themes …
Malik Scott reminded me of his fellow countryman, Danny Garcia's father, Angel, whom we met at the US Youth Boxing Championships in 2005, where his son and my student became Champions …
My student boxed in the category 91kg and was the only one at this championship who boxed in the Russian Boxing Style with his front arm raised high and jumped on toes… In addition, in the semifinals, he knocked out an opponent who was taken to the hospital straight from the ring, unconscious …
Therefore, it is not surprising that Angel, from the very first hours of our communication, showed great interest in our Russian Boxing School, which he called Russian Style too! Also Angel asked me a lot about Cuban Boxing. To my surprise, Garcia's dad already had information that the Russians had taught Cubans to use the Russian Techniques!!!
Malik Scott was the same tracker! He was also interested in everything related to our Russian Boxing School! This naturally won over me and, in the course of our discussions, I gave him my arguments for the advantages of Russian Boxing School over the American style, with most of which, he agreed even without discussion …
When I got information that Malik Scott was coaching Wilder, I got a double feeling.
I was happy for Wilder and anxiety that the new Wilder will be able to pass or even knock out Fury and become the most dangerous opponent for Usyk!
I do not know what is level Malik as a coach, but he is a very smart guy!
In the course of our communication, I saw a big difference in the views of the new Coach Deontay Wilder on the Russian Boxing School, Malik Scott and his former Coach, Mark Breland, with whom I have repeatedly and over the course of many years entered into discussions about Russian and American Boxing …
I think that when Malik said to me: I LOVE RUSSIAN BOXING SCHOOL!, he did not bend his soul and it seemed to me that for him it was already something more than just words, it was delight that he already understands what it is and what it is eaten with …
In my opinion, due to the fact that Malik Scott spent more than one day in Usyk's training camps, he has a lot of leverage, thanks to which, I think, he could TALK Wilder TO LEARN even elementary Boxing and elementary footwork, which, in his turn, given the very outstanding natural qualities of the former Champion, it can really help him to become a two-time World Champion!
A very important trump card in the joint work of Coach Malik Scott with Wilder will be the psychological factor, which, after Usyk's brilliant victory over Joshua, will be a good motivator in the hands of the new Coach Wilder when preparing his student for the upcoming fight.
It seemed to me that it was the psychological attitude before the last fight with Fury that turned out to be an insurmountable barrier for Wilder …
I cannot get into Wilder's head, because I am not his coach, but as far as I know Malik Scott as a coach, I admit that, properly promoted and presented in the best possible way, his stay and work in Usyk's training camp that followed behind this, the victories of Alexander in the heavy weight, as well as the beautiful victory of the Ukrainian over Joshua, can serve as a strong psychological doping for his student in the upcoming fight with Fury!
If Tyson Fury will be the same, and Deontay Wilder enters the ring as I see it in the process of his collaboration with the new coach, Malik Scott, I will give Wilder a victory with a large knockout percentage!