Posted on 17. Dec, 2009 by BoxingCoachMike in News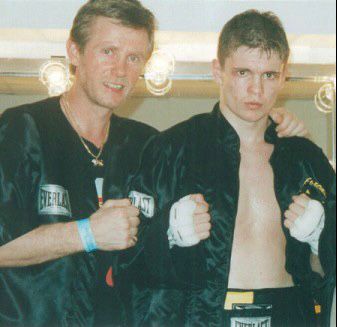 Mike,
CONGRATULATIONS, you made another world champion
in Yuri Foreman, It was clear that this was your technique,
you deserve all credit for his success.
The day after Michael Kozlowski's former student, Yuri Foreman, became WBA world champion, Foreman's former trainer has received numerous emails and phone calls similar to Billy's from his friends and boxers in Israel, Russia, Kazakhstan, Germany, England and the United States…
One rainy autumn morning in 1995, as Michael Kozlowski was driving with his friend to job in Haifa, Israel, Kozlowski saw some kid jogging in the distance. Michael then said to his friend: "Listen, you see this kid running in the morning in such nasty weather? His coach is very lucky to have him. I am very jealous of this kid's coach." After a couple of minutes they caught up to this kid…it turns out this kid was first Michael Kozlowski's student, that came to his first workout a couple months ago in the outdoor court of Basmat School in Haifa (because at this time, boxing gyms did not exist in Haifa)…His name was Yuri Foreman.
At Michael Kozlowski's first encounter with Yuri at the outdoor court of Basmat School, this 14 year-old kid told to new Israeli boxing coach: "I knew that you were coming…I was waiting for you…I want to become champion like Mike Tyson…"
After a few workouts, Michael Kozlowski noticed that Yuri was different from his other students. He had a tremendous desire to work hard. A couple of months later, Yuri made his boxing debut at the Israeli National Junior Olympic Championships. He won two fights. In the semi-finals, scared of his physically intimidating Arab opponent, Foreman lost by decision.
A few fights later, boxing trainer Michael Kozlowski realized that God blessed Yuri Foreman with the desire to work hard and the ability to learn boxing trainer Kozlowski's technique and footwork quickly. But the same God also cursed him with the lack of psychological strength to overcome his fears in the ring. But this was nothing new to former Russian boxing trainer. Michael Kozlowski's former student, Sergey Grigoryev, at 17 years old was considered to be a coward by many experienced Russian coaches. They told Kozlowski, that his pupil was too much a coward to become champion. Despite this, Michael Kozlowski helped to Sergey Grigoriev overcome his fear and made him into the 1991 Russian National Champion!
Even with his strengths and weaknesses, trainer Kozlowski realized, that him could make Yuri Foreman into a 2000 Olympian. And thus, they continued to work. In 1997, Yuri Foreman won the Under-19 Israeli National Championship. After this, at the Under-19 European Championship in Birmingham, England, he won his first fight against a physically tough French opponent. At the next bout however, due to his nervousness, he lost to a Belarussian opponent…In an international tournament in Slovakia, again due to his extreme nervousness, he lost his first bout against a sub par Polish opponent. A couple of months later, Michael Kozlowski's favorite student competed in an international tournament in Italy. After winning two fights, Yuri lost to another Polish opponent in the finals because of Foreman's nervousness…
In autumn 1998, Michael Kozlowski and Yuri Foreman, as represented national Israeli boxing team, went to the Under-19 World Championship in Buenos Aires, Argentina.
In his first bout, Yuri Foreman convincingly beat a boxer from Kazakhstan. In his second bout, Yuri out boxed a tough Danish boxer who had previously destroyed a boxer from Ukraine. In the quarterfinal, however, due to his nervousness, Yuri Foreman lost a close fight against a sub par boxer from Yugoslavia. At this event, the head coach of the Russian National Boxing team, Gennady Savin, complimented to Michael Kozlowski, by praising Yuri's peak conditioning for the competition (at this time, bouts were five rounds, two minutes each). If he had known that they trained in the outdoor courts of the Basmat School with one punching bag on Michael Kozlowski's home balcony, Israeli coach believe head coach Russian boxing team would have given to him a much greater compliment…
After the world championship in Argentina, boxing trainer Michael Kozlowski made the decision to continue his coaching career in the United States.
At the end of 1998, Yuri Foreman became the Men's Israeli National Champion, and Kozlowski's family packs suitcases to America.
In the summer of 1999, Yuri Foreman came to New York City and became a member of Michael Kozlowski's family, along with trainer's 11 year-old daughter Diana and 4 year-old daughter Valerie.

First workout of new American trainer and his student in America was at the legendary Gleason's Gym. Because of Yuri Foreman's boxing stance and Michael Kozlowski's boxing style many coaches did not see a future in him. They told to trainer that his boxer could never become a professional, because he moved too much and could not lat 12 rounds…Knowing Yuri extremely well Michael Kozlowski told him to ignore other coaches criticisms. Kozlowski explained to Foreman, that it was necessary for him to keep his style, because Yuri had no chin and he lacked knockout power. Michael Kozlowski's style gave to Yuri Foreman foot work and trainer explained to him, that this was much more important than punching…
From the first day in Gleason's Gym, Michael Kozlowski started to prepare Yuri Foreman for the 1999 World Amateur Championships in Houston…Every morning trainer and boxer traveled from Brooklyn to Manhattan by subway. Once they reached the Hudson River, Yuri exited the subway and ran to 42nd Street. Michael Kozlowski traveled by train with gym bags to his job, where he trained Foreman before he started working. After work, trainer and Yuri went to Gleason's Gym for there afternoon workout. They continued this schedule for many months. Michael Kozlowski and Yury Foreman had no money to travel to Houston so trainer asked the boss of his company, M&A Linens, Michael Bernesteyn to help them out. With Michael Bernesteyn they sought to raise money from other companies. Some company owners gave to former Israeli trainer $10.00 and asked him for $5.00 dollars change.
Finally Foreman's trainer made it to Houston and in the World Championships Yuri had an unlucky draw. Yuri Foreman's first fight was against Larry Mosley, who was the Goodwill Games Silver medalist and 2-time USA National Champion. Larry Mosley was also the cousin of the legendary "Sugar" Shane Mosley. It was a close fight and Yuri Foreman lost an 8-5 decision.
Nonetheless, trainer and boxer continued to work hard. Michael Kozlowski told Yuri "We will continue to work hard. Our win will come!…"
An interesting detail: In a workout in 1999, as Michael Kozlowski was training Yuri Foreman, an American woman came to "Russian coach" and said that "I want to move and box like your student Yuri, because I want to be USA champion." Her name was Jill Emery. Until 2004,with her boxing trainer Michael Kozlowski, Jill Emery won all amateur titles except the Woman's Amateur World Championship. In 2008, Jill Emery was first student of boxing trainer Michael Kozlowski who became female professional World Champion! But this is another story.
After the World Championship in Houston, Michael Kozlowski started to prepare Yuri Foreman for the New York Golden Gloves. They worked hard from morning to night. Foreman's trainer saw his family only in the morning while his kids were still sleeping. And at night Michael Kozlowski saw them again, when trainer came back from the gym with Yuri Foreman, while there were asleep. On the weekends, Coach and his favorite student traveled to other parts in America to look for fights, so that Yuri Foreman could gain experience. Kozlowski's wife started to converse with him, even in front of Yuri Foreman, about sending Yuri Foreman back to Israel. When trainer defended his student, she told him, "You will see, when Yuri becomes great in boxing, he will betray you!.." One day when she was exhausted from arguments with her husband, she told Foreman's trainer: "Either him or your family!.." After Foreman's trainer told her: "I never betray my kids and my students," Yuri Foreman and Michael Kozlowski rented another apartment that was across the street from trainer's family house. Foreman's trainer wife then started to file papers for divorce.
In the 2000 New York Golden Gloves Yuri Foreman won three fights and went to final in Madison Square Garden against Luis Collazo. Again Michael Kozlowski's boy, due to nervousness, lost the fight. Coach and boxer were lucky because Luis Collazo, after this fight turned professional and Yuri Foreman took his place on the New York team and went to Detroit for the USA National Golden Gloves. Yuri Foreman was the only that brought back a bronze medal for the New York team…
Yuri continued to grow up. Michael Kozlowski set him up with a nice girl (who turned out to be his future wife). Trainer then became less concerned his private life.
Finally in 2001, Yuri won the New York Golden Gloves and, for the second time, became the bronze medalist at the National Golden Gloves.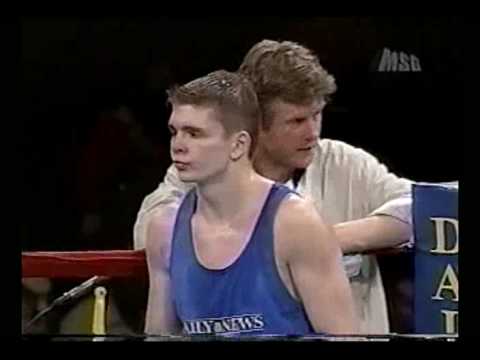 After the National Golden Gloves trainer and boxer decided to turn professional. Yoel Judah, the father of the then world champion, Zab Judah, who respected Michael Kozlowski a lot, connected "Russian trainer" with Shelly Finkel. Shelly Finkel didn't want to sign Yuri Foreman, because he felt that Foreman fought too much like an amateur and was not impressive enough for a professional career. But out of respect of Yoel Judah, Shelly Finkel arrange for Yuri Foreman's professional debut on the undercard of the fight between Zab Judah and Kostya Tszyu. Foreman were scheduled to fight after the main event but due to Zab Judah's altercation with the judges, the fight was cancelled.
In January 2002, Yuri Foreman made his professional debut and won by first round TKO.
Yuri Foreman then started to work with the promoter Lou DiBella. Lou DiBella liked Yuri Foreman, but was not impressed with his style. He did not see a future for Yuri Foreman in professional boxing. But out of respect for Foreman's trainer, DiBella agreed to arrange fights for Yuri Foreman without signing.
In his second fight, on a card for ESPN 2, Yuri Foreman, won by knockout. After this, what emerged was, as they use to call it when Michael Kozlowski was a university student in Soviet Russia, the ugly face of professional sport; they were taught that a manager or promoter doesn't care about boxers—they're only concerned with how to make money off of athletes. Here is Michel Kozlowski's first lesson about the dirty side of professional boxing: After the fight, one of Lou DiBella's matchmakers called Foreman's trainer and told him, that DiBella's promotion had a match next week in Baltimore with a nobody, George Armenta, that Yuri Foreman could easily knockout. Armenta had four wins and one loss. Foreman's trainer had no time to check any information about this opponent. Once Foreman's team arrived in Baltimore, they learned that opponent had over 200 amateur fights and his only professional loss came to an opponent with a 9-0 record. Michael Kozlowski told Yuri Foreman: "Yuri, the promoter is checking us and putting us in trouble. We have no choice, but to fight. However, I'm confident, that you have better conditioning than any opponent. This is six rounds not four and that will give us a greater chance of winning."
Now Yuri Foreman were in the ring against the local favorite. After a few seconds in the first round, Yuri Foreman was knocked down. It was only through his footwork, that Yuri Foreman was able to survive the rest of the round. At the end of the third round, Yuri Foreman began to hurt his opponent with various combinations putting Armenta in real trouble on the canvas. The crowd of 3,000 was going wild during this tough fight. Yuri Foreman won a majority decision and was considered the fight of the night. In boxing trainer Michael Kozlowski's opinion, it was the best fight of Yuri Foreman's professional career.
After this fight, Lou DiBella came to Foreman's dressing room, smiling. Foreman's trainer was so furious, that he grabbed DiBella and told him angrily: "If you give one more fight like this for my son, I will not talk to you so lightly!"
When returned to New York, Michael Kozlowski told DiBella, that Foreman would never take another fight unless you provide information about the opponent with a video. After this incident with Lou DiBella, Michael Kozlowski noticed that DiBella's people began inviting Yuri Foreman to boxing events without his trainer. Michael Kozlowski felt that they started to manipulate Yuri Foreman, but when trainer told Yuri his feelings about this, Yuri Foreman told him: "Michael, don't worry. You are like a father to me. I love you!…"
Michael Kozlowski started to become even more nervous, when one night at dinner, Yuri Foreman told him that he wanted to leave the apartment to live with his girlfriend. Yuri told his trainer, he would continue to help with the rent. However, when the time came for the rent to be paid, Foreman told his trainer that he had no money. But Michael Kozlowski knew that in this time his boxer made more money from his fights than trainer's one-month salary. Foreman's trainer began to economize tremendously; the rent took a huge portion of Michael Kozlowski's salary and he had to support his children. Fortunately, Michael Kozlowski's friends helped him out a lot.
Yuri Foreman began to change tremendously; he started to argue with his trainer during workouts. His girlfriend began to arrange meeting with lawyers concerning his professional career behind Michael Kozlowski's back. When Foreman's trainer told her to keep her nose out of his and Yuri business, she told to Kozlowski: "Michael, you a great coach, but you don't understand show business." Michael Kozlowski later realized that Yuri Foreman chose to only listen to her.
Throughout all of this, Yuri Foreman's career continued to progress according to plan—he had at least one fight per month.
In August, 2002, Yuri Foreman made his first tough fight against the undefeated Jose Luis Almanzar. It was Yuri Foreman's first live fight on ESPN 2. Yuri Foreman won a unanimous decision.
A few weeks after this fight, Yuri Foreman told to his trainer: "Michael, the promoter told me that "if your no-name coach stays in your corner, you wont be on television". Trainer told him: "Yuri, who brought you to this promoter? Who brought you to this level? Now you have to defend me! Promoter have to do what you say! They need you! If this promoter don't listen to you, we can go to another promoter…" Yuri continued: "They told me to train with Tommy Brooks to learn an American style." Foreman's trainer replied: "What is an American style? You've been training for eight years with my style. We don't have time to switch our style. You have no power or chin for an American style. If you lose one fight, that will be the end of your career. Yuri, how many good Russian boxers came to America? Hundreds and hundreds!.. Where are they? They disappear because they change their style…Yuri, please don't betray me, don't betray our dream!.."
After this conversation, Yuri Foreman stopped coming to Gleason's Gym… Michael Kozlowski's students then told him, that Foreman went to New Jersey to train with Tommy Brooks. Zab Judah at this time consoled Russian Coach Mike and told him not to worry. He told Russian trainer: "Mike, don't be upset. Tommy Brooks trained me and I know that he's not on your level. Yeah, Tommy Brooks trained Holyfield and Mike Tyson but we all know who their real trainers were. You'll see, Yuri will return."
Weeks and weeks passed. Foreman's trainer continued to count every dollar, waiting for a call from his student. Then one day, Michael Kozlowski became so mad, that he felt that, if he were to see Yuri, trainer would tear him to pieces. Michael started to ask his students how he could find Yuri, so that trainer can have a serious man-to-man conversation with Yuri… But this was not like 'Rocky five' movie. One day, in December in 2002, two FBI agents came to Michael Kozlowski's job, "M&A Linens", and forced their way past Michael Bernesteyn, who helped raise money for Yuri Foreman to travel to Houston. They then began to investigate Foreman's trainer. Based on what Yuri told them, they told former Russian trainer, that Michael Kozlowski was a part of the Russian mafia and trainer sent someone to put a gun to Yuri Foreman's head. For two hours, they tried to make Foreman's trainer confess to criminal charges. When they left they told Michael Kozlowski: "If you come closer than a few yards of Yuri Foreman, we will send you back to your f—ing Russia."
Foreman's trainer only learned later about Yuri's career through television and newspapers. After a couple of fights, Tommy Brooks stopped training Yuri Foreman. Yuri Foreman then jumped from one coach to another, but he continued to use a worse version of Michael Kozlowski's style…
In 2007, at the Amateur World Championship in Chicago boxing trainer Michael Kozlowski spent a lot of time with Shelly Finkel, who, in Kozlowski's opinion, is one of the greatest professional boxing managers in the world. Shelly Finkel made the professional career for fighters such as Mark Breland, Evander Holyfield, Mike Tyson, Zab Judah, Fernando Vargas, Wladimir Klitschko among others…
As were walking together in Chicago, Shelly Finkel told Michael Kozlowski:
"Mike, if I had signed Yuri Foreman at that time, I would have never let him leave you."
Kozlowski replied: "But, Shelly, you always changed the coaches after you signed your boxers."
Shelly looked into Michael Kozlowski's eyes and said: "But not a coach like you…"
Related Articles:
For the first time in Yuri Foreman's boxing career, he did not use his original trainer Michael Kozlowski´s boxing style and was therefore destroyed by Pawel Wolak
Trainer Michael Kozlowski predicts an easy win for his former fighter Yuri Foreman against Pawel Wolak
Coach Michael Kozlowski comments on the Yuri Foreman vs. Miguel Cotto Fight
Boxing coach Michael Kozlowski on the Cotto vs. Foreman fight…
Meeting between Coach Michael Kozlowski and his former fighter and current WBA Champion, Yuri Foreman